Our multiple unusual Y Combinator interviews
December 30, 2020
3 min read
I wasn't thinking of writing a 'our YC interview' blog post, but our interview was pretty different to what I was expecting from reading other blogs. So here is our experience. This won't be very helpful in preparing for a YC interview, it's our story.
We applied for Y Combinator on the 15th September 2020 for the winter 2021 batch, and were invited to the interviews on the 22nd October. The idea was Infracost.io, which creates cloud cost estimates for Terraform in pull requests, so developers know how much their resources will cost before launching them. It worked by leaving a comment in the PR like 'this change will increase your AWS bill by 25% next month'. Our aim is to create a more cost-aware engineering organization.
We got the interview invite email, booked a time slot, and started preparing by reading other people's experiences with the YC interview. 2020 is the year of Covid-19, so the interview was via Zoom.
This is us just before the interviews: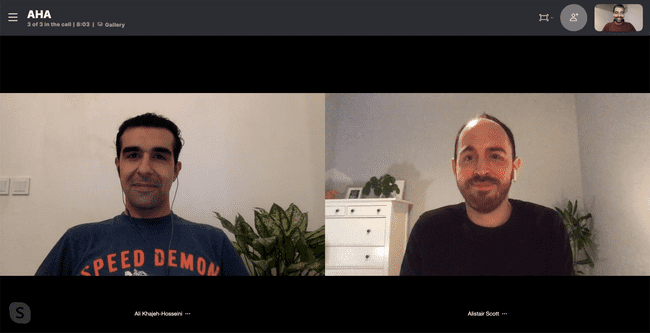 We are based in Scotland, so we scheduled our interview for 6:15pm GMT. The interview kicked off and we spent the next few minutes talking and answering the standard questions of what we do, why we do it, who this is for etc. This is when we noticed that things were not going very well, there were three people on the call, but only one person was asking questions. They didn't interrupt us, they asked fair/easy questions, there was no grilling, and finally at minute 8 it went quiet - "any more questions?" the lead interviewer asked, and silence. Call ended.

YC said if they wanted to re-interview us, they would let us know within 1 hour. No emails came through, so we were pretty confident that we had not got in. I went offline and played Mario Kart 64 (yep! On the N64!), once in a while checking my phone. 3 hours after our initial interview, an email came through. I thought it was the rejection notice, but instead it read: "We'd like to get a bit more information about your company with different interviewers…". We had 1 hour to prep, learn and go again.

This is when we found a blog post about another company's YC interview who had done something in the cloud cost space. The TL;DR was: ever since AWS launched, in every batch of YC there is a company who applies with a cloud cost visibility/optimization idea. What are you doing that is different to every single other attempt? This is what we needed to get across. We prepared and got ready for round two.

We joined the zoom call, and saw that the heavy hitters were on (Michael, Gustaf, Reshma and Ralph). Simple question first, what do you do. From there, it went into full-on mode. Why do developers care about costs? At which point does the costs become an issue? Who in the organization cares, and what do they do? Who buys this, who uses it? Okay, let's say this product gets adopted, what does the end result look like? Who are the current users? Why can I not just build this from the cloud bills? Then Michael said - look, we've had so many companies attempt this, what is different about you and this product? 10 minutes ended and a message was sent in the chat that time is up … everyone ignored it! The 'interview' took a turn to discussion and everyone talking about how we can address cloud cost concerns. The interview changed into something that felt like office hours! 15 minutes later, we ended the 25 minute call and it felt great! We were hyped, excited about a few things we wanted to test and it felt like YC would be an incredible resource.

From what I have read online, this experience is not very common. Usually the calls end on the 10th minute.

I didn't manage to sleep for 2 days - a mixture of anxiety and expecting a call (I kept my phone next to me and not on silent, I think that's why my brain didn't switch off). Then, at 5am I got a Whatsapp message: "Hi Hassan, this is Gustaf from YC. Let me know when you are free to talk". We were accepted into the batch.

Now what? Join us on our journey! give Infracost a try, then jump into our Slack channel, and if you have any time to contribute code, we would love that! Let's see if we can address cloud cost issues from the developer level!
---